I Forgot What You Taught Me – CD
$9.50
Sam Barsh's debut CD offers a quirky yet endearing pop-jazz sound with playful tracks like "Plans Change" and "This Is The Song." Enjoy a delightful contemporary jazz experience.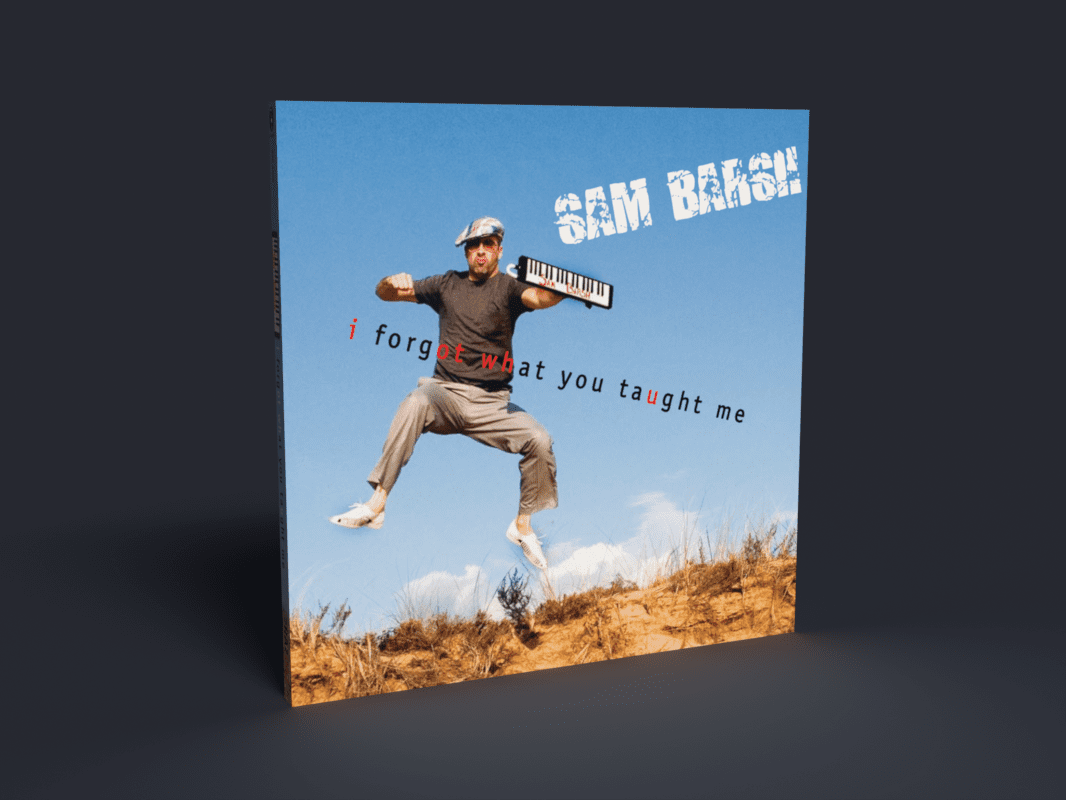 Sam Barsh is one of those delightful free spirits, one who agrees to pose naked on the back cover of his debut CD save for a strategically placed melodica covering his butt. His music is cheeky as well, which seems to be dedicated to his rigid but well-meaning music teachers. A former member of the Avishai Cohen Trio, Barsh has created a quirky-but-endearing pop-jazz CD with many pleasing moments perfect Sunday morning with a cup of Joe. "Plans Change" and "This Is The Song" are simple and enjoyable, but the real fun begin with songs like "Wake Up and Smile", Barsh's melodica answering Tim Collin's videos work.
Throw in some dub ('George Dub'), easy sway ('nuTrance') and the mesmerizing loop of "Jew Hefner", and you have one fine contemporary jazz CD, lean and so fun to listen to. Don't know if his jazz teachers would approve, but I Forgot What You Taught Me is a hell of a sweet listen. Holding down the bottom admirably are Ari Folman-Cohen on bass and Jaimeo Brown on drums.
Pianist Sam Barsh, who until recently has been best known for his work as a sideman for such eclectic jazz artists as Avishai Cohen and Zach Brock and the Coffee Achievers, will release I Forgot What You Taught Me, on February 12 on Razdaz Recordz, the five year-old label founded by the internationally acclaimed bassist/composer and band leader Avishai Cohen and his manager Ray Jefford.
I Forgot What You Taught Me features the quartet known as The Sam Barsh band: Barsh on piano, keyboards and melodica, Tim Collins (Christian McBride, Buster Williams, Harvie S.) on vibes, Ari Folman-Cohen (Soulive, Karl Denson's Tiny Universe) on bass and Jaimeo Brown (Stevie Wonder, A Tribe Called Quest's Q-Tip, and Bobby Hutcherson) on drums. The CD's 13 selections were all composed by Barsh, with the exception of the hypnotic "George Dub" which was written by the entire band.
Barsh grew up in the Chicago area, and has been playing music since the age of 4, starting on piano, and expanding to organ, synthesizers, vintage keyboards, and melodica. From 2003 through 2006, Barsh was a member of the renowned Avishai Cohen Trio, with whom he recorded 3 CDs and a live DVD. He can also be seen regularly with violinist Zach Brock and the Coffee Achievers, with whom he has toured and recorded two CDs and an upcoming, live CD/DVD.
In addition, he has performed with a diverse group of notable artists throughout his career In addition, he has performed with a diverse group of notable artists throughout his career, including Cassandra Wilson, Jeff Parker, Boyz II Men, Bobby McFerrin, The Brand New Heavies, Robin Eubanks, Debbie Friedman, Branford Marsalis, Lonnie Plaxico, Christophe Schweizer, Dave Samuels (of Spyro Gyra), Ku'umba Frank Lacy, The Mighty Blue Kings, Omar Edwards, Mino Cinelu, Rez Abbasi, Kenny Wollessen, Curtis Watts, Nguyen Le, Ben Monder, Hans Glawischnig, Todd Carey, and many others.
Tracks
Intro - Welcome To Barsh's World
Plans Change
Wake Up And Smile
NuTrance
George Dub
Rainy Day Jam
Jew Hefner
Between Dead and Alive
Rainy Day Loop
Harriet Nyborg
Plans Change (Reprise)
This Is A Song
Outro - Goodbye for Now...