Sensitive Hours – 'Shaot Regishot' – Vinyl
$20.00
Discover Avishai Cohen's transformative album "Shaot Regishot" on vinyl. A fusion of Israeli heritage, jazz influences, and poignant vocals. An experimental masterpiece that marries tradition and innovation. A sonic journey through Cohen's world, where every note resonates with emotion and history.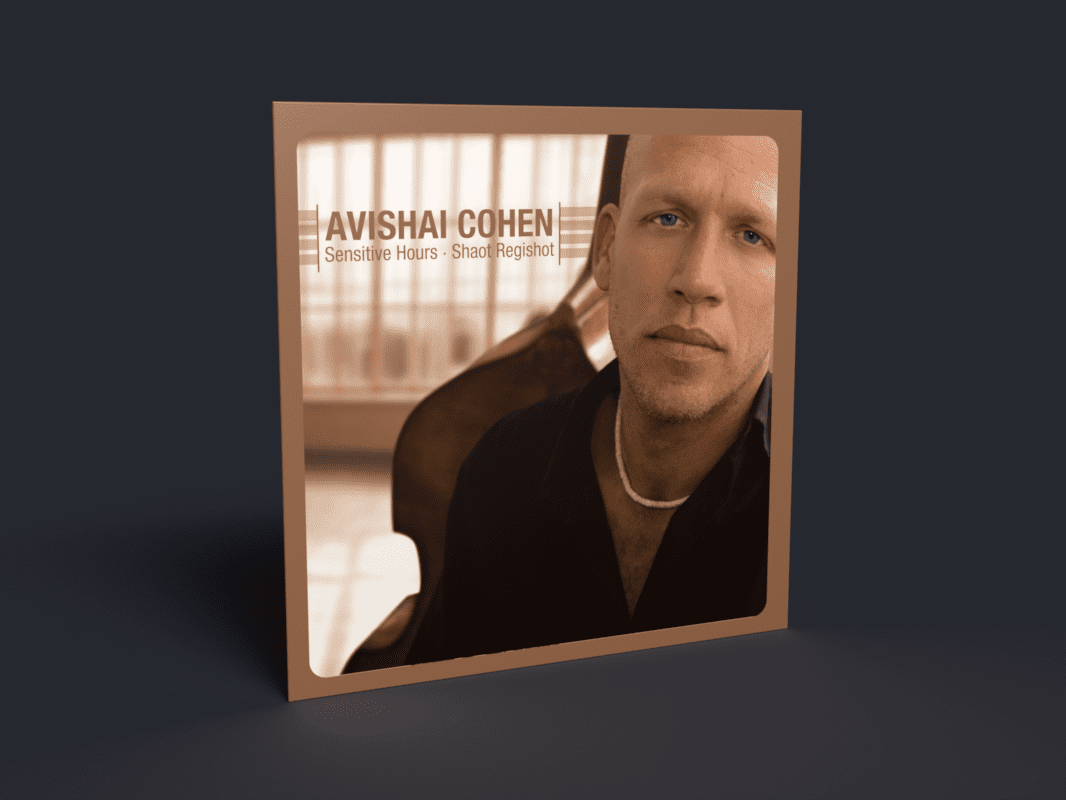 Embark on an auditory odyssey with Avishai Cohen's iconic album "Shaot Regishot" (Sensitive Hours) now available as a captivating vinyl release. This album weaves a tapestry of musical artistry, guiding listeners through the intricate layers of Cohen's Israeli heritage, global jazz influences, and profound vocal compositions. Originally launched to resounding acclaim in August 2008, "Shaot Regishot" holds a special place in Cohen's journey, representing his debut exploration of vocal compositions. Blending his renowned instrumental virtuosity with an emotional connection to his cultural roots, the album features a compelling blend of original works and traditional texts that resonate deeply within Israeli history.
The album showcases a dynamic ensemble of young, gifted musicians hailing from Israel and the USA, united by Avishai's celebrated jazz trio. Together, they breathe life into an array of tracks, spanning from the poetic "Yo M'enamori D'un Ayre" to the soul-stirring "Ahava Hadasha," each a reflection of Cohen's multifaceted musical persona. This collective synergy infuses each composition with both complexity and accessibility, ensuring that the album delivers "beauty straight from the heart to all."
Beyond its musical brilliance, "Shaot Regishot" offers a multi-dimensional experience. Included with the vinyl is a 20-page booklet, presenting song lyrics alongside English translations, allowing listeners to delve deeper into Cohen's artistic vision. Whether entranced by the enchanting "Ezamer Be Shovchin / Adama" or finding solace in the melodious "Shalom Aleichem," the album invites you to embark on a journey through the emotional and cultural dimensions of Cohen's craft.
An integral facet of this album is its groundbreaking nature. Serving as Cohen's first major project incorporating vocals throughout, it marks a pivotal milestone in his illustrious career, pushing the boundaries of musical storytelling. "Shaot Regishot" isn't merely an album; it's a transformative exploration of the limitless potential within the fusion of tradition and innovation.
Whether you're a seasoned jazz enthusiast, an admirer of Israeli culture, or a lover of music seeking resonant melodies, "Shaot Regishot" on vinyl transcends the confines of a mere addition to your collection. It's an immersive experience that educates and enriches. Each track serves as a portal to tradition, innovation, and profound expression, woven together by Cohen's unique journey and universal artistry. In summary, "Shaot Regishot" stands as a treasure trove of musical gems, inviting you to traverse the corridors of history, culture, and soulful creativity.
Tracks
Yo M'enamori D'un Ayre
Ahava Hadasha
Ezamer Be Shovchin / Adama
Shuvi Elay
Yad Anuga
Shaot Regishot
Shalom Aleichem - Radio Edit
Dror Yikra
El Hatzipor
Si Kanamaia
Tzaadi
Puncha Puncha
Credit
Avishai Cohen

Bass, Vocals

Mark Guiliana

Drums

Shai Maestro

Piano, Keyboards

Itamar Doari

Percussion, Vocals

Karen Malka

Vocals

Eyal Heler

Guitar

Ilan Salem

Flute

Oded Meir

Trombone

Rea Bar- Ness

Percussion, Vocals
Daniel Kedem, Patrick Merick, Aviad Bar-Ness

Photography Alona Weiss Artwork

Alona Weiss

Artwork
This album is also available as: